The whole thing started when we were studying tourism back home in Sweden. In our curriculum it says that we should have an 80 days internship and that we could choose wherever we wanted to do it in the world. Talk about having the whole world as a classroom! We were thinking really much what we wanted to do under this period and we had a lot of ideas of what we could do but we never found one we immediately stuck for. But many of our suggestions where about trekking companies because we share the same interest in that point and we got an idea. Why not trek among the worlds highest mountains and one of the most beautiful places in the world? So we sent an email to Earthbound Expeditions, a company with many years experience about organizing trekking to Everest base camp and explained what we would like to do and the replay was very good so in that way it is.

We came to Nepal one week before the trip that would start 4th of November because we wanted to help Earthbound Expeditions at their office in Kathmandu. In that week we helped the company with new ideas and suggestions about the home page, information in English, marketing and organizing the company and so on. Earthbound Expeditions gave us a big trust and we felt that we grew with the task. They showed much appreciation to our work so that was fun.
Before we came to Katmandu we had a stopover in Istanbul. We had the whole day in Istanbul because we landed in the morning and the flight to Katmandu was in the evening. But it was not as bad as it sounds because we had heard that Turkish airlines offers one free tour around Istanbul paid by Turkish airlines if you have to wait a certain numbers of hours. So we got a free tour around Istanbul and we had time to see the most popular tourist attractions as Hagia Sofia, the catacombs, blue mosque and spice bazar where they sold many different spices and the air was full of different smells. After the tour we went back to the airport to our flight that would take us to Nepal and Katmandu.

Now I will tell you about the big goal with our trip, trekking to Everest Base Camp.
It all started the 4th of November when the rest of our group was arriving. There was two people from Canada, two from Germany and two from Scotland (the lady where initially from Poland) and of course us from Sweden. So we were an international gang that would try to accomplish this task to climb to Mt Everest base camp. The first time we met the others was on Mr Rajan´s briefing except from the people from Scotland who landed late that night and couldnt make it to the meeting. Mr Rajan told us how the itinerary looked like, culture and tradition in Nepal, history about the country and what kind of expectations we should have. It was a very good briefing that lasted for around one hour from 5pm to 6pm.

5th of November: The day stared with a guided tour around Kathmandu. We visited the monkey temple Shyambhunath and it is what you think - a lot of monkeys, it was really nice. Next stop where at Patan city, an old part of Kathmandu with different kinds of temples. It was very beautiful. We also had time to visit the Golden temple and we got an introduction in healing therapy with healing bowls before it was time to move on. We went to one of the biggest Stupas in the world called Boudhanath and there we ate lunch first and after that we took a walk around the Stupa. It started to get late but we had one more place to visit before we went back to the hotel. It was a temple complex called Pashupatinath where they burn all bodies in Kathmandu. We didnt want to see that so we waited outside for the rest of our group. We came back to the hotel around 5 pm and if you needed to buy something for the trek you had time to do that.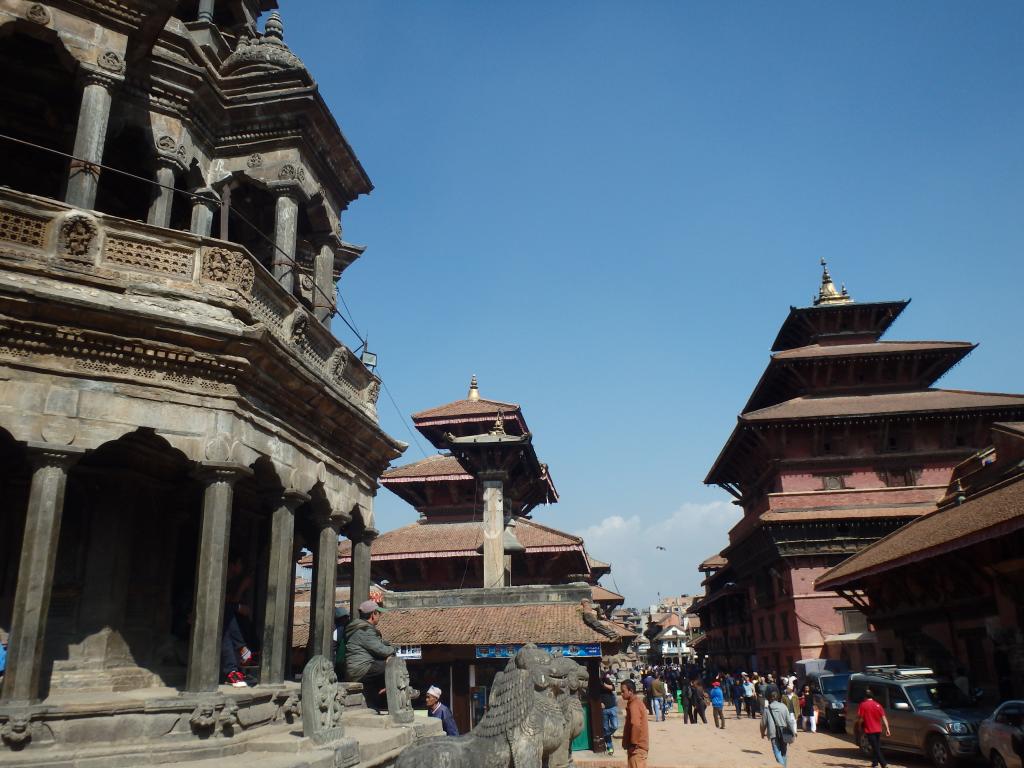 6th of November: The big day was here, we were going to fly from Kathmandu to Lukla early in the morning so right after breakfast we took the bus to the airport. We were lucky and the delay wasnt so bad. We had 3 friends that were supposed to fly on the 4th but they got one and a half day delayed because of the weather. Since the airport in Lukla is one of the most dangerous in the world because of the location it is very important that the weather is good enough for the pilots to see. We came to Lukla around 9 oclock and went to a hotel to do our last packing before we started hiking. The mission of the day was to hike from Lukla (2840 m) to a little village called Phakding (2610 m). The weather was very nice and the hike was fairly easy so it was a very good first day. When we got there we checked in to our rooms at a simple lodge and then ordered dinner for the evening. We stayed at the room to rest before dinner. The dinner was good and then we had an early night.




7th of November: After a good nights sleep and a nice breakfast we began the hiking to Namche bazar (3440 m). We knew it was going to be a hard day with a lot of uphill. Before lunch the trail was pretty easy and it was lovely to walk in the sun along the green valleys. After a long and resting lunch the challenge began. Our first obstacle was a very high bridge and then the steep hills began and we went up and up and up! Eventually we came to Namche, a big village on the slopes of the mountains. We checked in at the lodge and it was nice to know that we were going to stay there for two nights. Again we had a nice evening together in the group and a good dinner.




8th of November: This was our first day to acclimatize so after breakfast we put on our hiking boots and set off to another wonderful day in the sun. Our first stop was the museum on the top of the mountain behind Namche. When we walked there we passed the bazar so we had a chance to look at the local foods they were selling along with other stuff like clothes and candy. The hike up to the museum was short and when we reached the top the view was amazing. We were surrounded by high mountains with snow and we could see MT Everest, the worlds highest mountain! We took some photos and looked in the museum before we went down again to climb the next mountain on the other side of the village. The best way to handle the height is to go high and then go back lower to sleep. The second hill was very long and steep so it was a little bit of a struggle. Eventually we came up to the top and we saw another nice panorama of the mountains. On the way down again we took another way and passed the airport in Namche. We saw a helicopter go up with some people going skydiving and earlier we saw two skydivers in the air so that was cool. We came back by lunch and then we had some free time to walk around in Namche and take it easy at the hotel.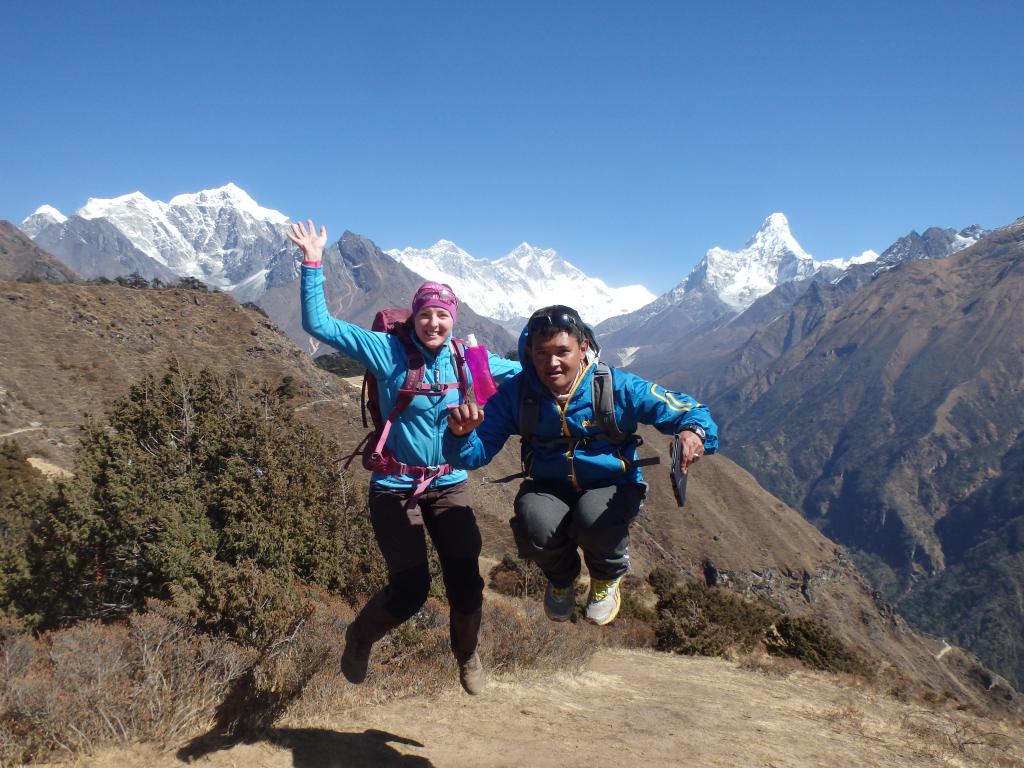 9th of November: Now we were going higher up in the mountains to Tengboche (3860 m). The beginning of the trail was flat and very beautiful. We met a lot of other trekkers and yaks carrying heavy luggage on the trail. Before lunch the road was downhill and down by the river we had a good noodle lunch. After lunch there was a big hill up to Tengboche, a small village on the top of a mountain. We were very tired when we got there but we had the best hot chocolate so that was very nice. We went to the monastery after that but we could not go inside because they had a special ceremony in there so we took some photos on the outside. It was really cool this evening because we could see that it was cloudy below us, and we were above the clouds!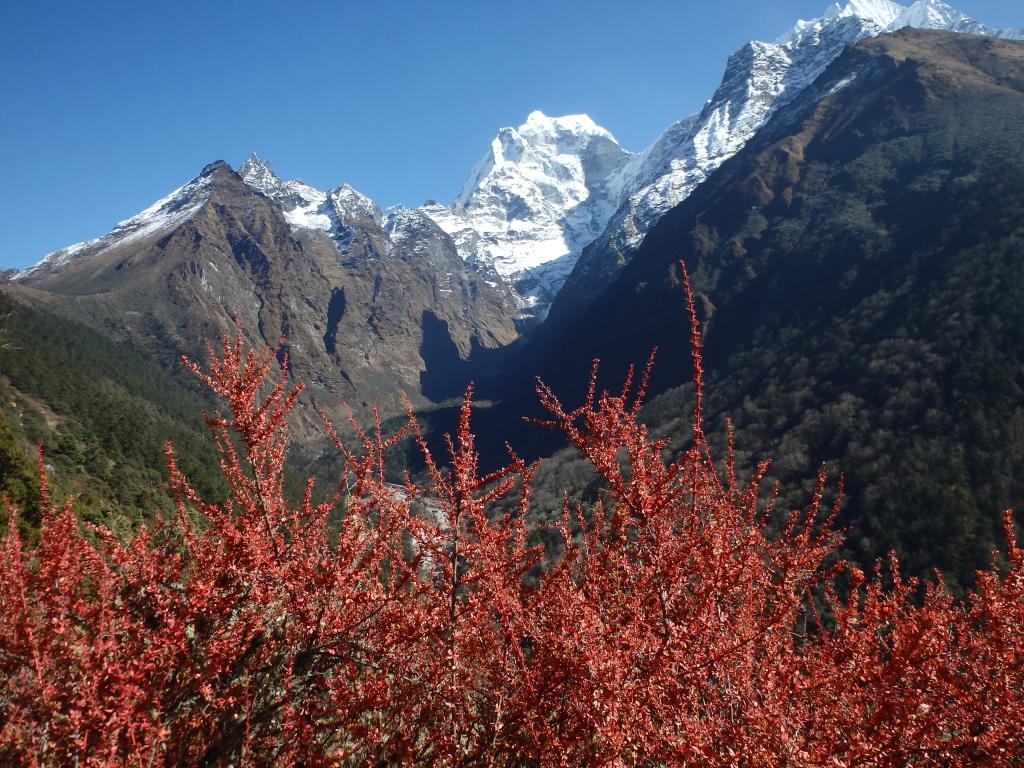 10th of November: This day we were heading to Dingboche (4410 m). It was again a sunny day and we started walking after a nice breakfast, with another good hot chocolate! The beginning of the trail was downhill and easy. When we are walking it is fun to talk to the porters and learn some Nepali. They are very nice and I cant believe how they manage to carry all that weight for us. We have learned words like ramro which means good and arram which is rest. Very useful words and sometimes we say it to other porters and then they laugh. We ate lunch in a small village called Pangboche and it was as usual very nice with a rest. Our guide Maule told us that garlic is good when you are at high altitudes, especially for headaches, so many of us ate a garlic soup with rice for lunch. After lunch there was another hill but then there was a flat trail to Dingboche. When we got there we checked in to beautiful rooms with their own bathrooms, it felt very luxurious! And the best part was that we were staying there for two nights because we had another day to acclimatize.





11th of November: We had a later breakfast today so we could sleep a little longer. It is strange because here in the mountains it feels like you could sleep all the time. We go to bed early and sleep like 10 hours and still wakes up and want to sleep more! After breakfast we started to walk up a mountain to get to higher altitudes. One of the men in our group wasnt feeling good so he turned back to rest at the hotel. The hike up was going very well and we didnt feel any headaches or other high sickness symptoms at 4800 meters so we were very positive. We took a different way back down which was more difficult. We came back for lunch and had the whole afternoon to rest. At dinner it was a little scary because we saw one woman that was very ill and we found out that the man in our group decided to go to Periche and wait for us there because he didnt want to go higher up. But we were feeling good so that made us happy that we could keep going up tomorrow.




12th of November: We had a good sleep and in the morning we started our way up. The beginning of the trail to Lobuche (4910 m) was very nice and easy. We could walk and just enjoy the views and the nice weather. We came to Thokla by lunchtime and ate some food and took a rest while we could see the big hill we had ahead of us. So far we were feeling good but by the time we started going up the hill we immediately felt the headache coming and it was really tuff. We struggled but eventually we came to the top. There it was a memorial place to remember all who had died on Mount Everest so that was nice. It was so nice to reach the top and have a rest! We found out that one of the girls in our group turned back after half the hill because she wasnt feeling good so now we were two people less. It felt like it was a very long way to Lobuche but that was probably because we didnt feel as good as before. At Lobuche it was very nice to get our room and have a dinner before an early night.




13th of November: We woke up feeling much better than the night before and we were ready to head to Gorak Shep and then our big goal for the trek Everst base camp! It was a trail with lots of stones up to Gorak Shep and we were walking beside the big Khumbu glacier. Since we are getting higher and higher we are getting more tired and tired so when we got to Gorak Shep by lunchtime it felt like we had done our hiking for the day but we still had five more hours back and forth to base camp. We ate lunch and checked in to our rooms before we started the biggest and most important challenge for the trip. It was stones and stones everywhere but yet a fairly easy hike to base camp. We walked over the glacier and then finally we were there, we had made it to Everest base camp and we were so happy. It was incredible and such a relief to reach our goal. We had a little bit of a headache but it was not bad. After some photos we headed back to the hotel very happy and proud of ourselves.




14th of November: The beginning of this day was very hard. We were getting up before 4 oclock because then we were going to hike up to the top of Kala Patthar (5550 m) to see the sunrise over Mount Everest. We put on all our warm clothes and our headlights and walked out in the dark. It was amazing to get out and see the mountains and the sky full of stars. But the hike, wow that was probably the most difficult hike weve ever done. But we made it, tired but very happy to see the beautiful view. It was very cold and windy on the top so we took some photos and went back down so we wouldnt get too cold. Back at the hotel we ate breakfast and could not believe that we had a whole day of hiking ahead of us after the big challenge to Kala Patthar. We got some energy from the breakfast and then we started to walk down to Periche with tired legs. After a while the stony path changed into a much flatter and easier trail so we managed to get all the way down to Periche and still feeling good. The best part was knowing that we were done going up to higher altitudes, we were going down to better air with every step we took. We came to another very nice lodge and met the two persons that had turned around earlier, so now we were the whole group again.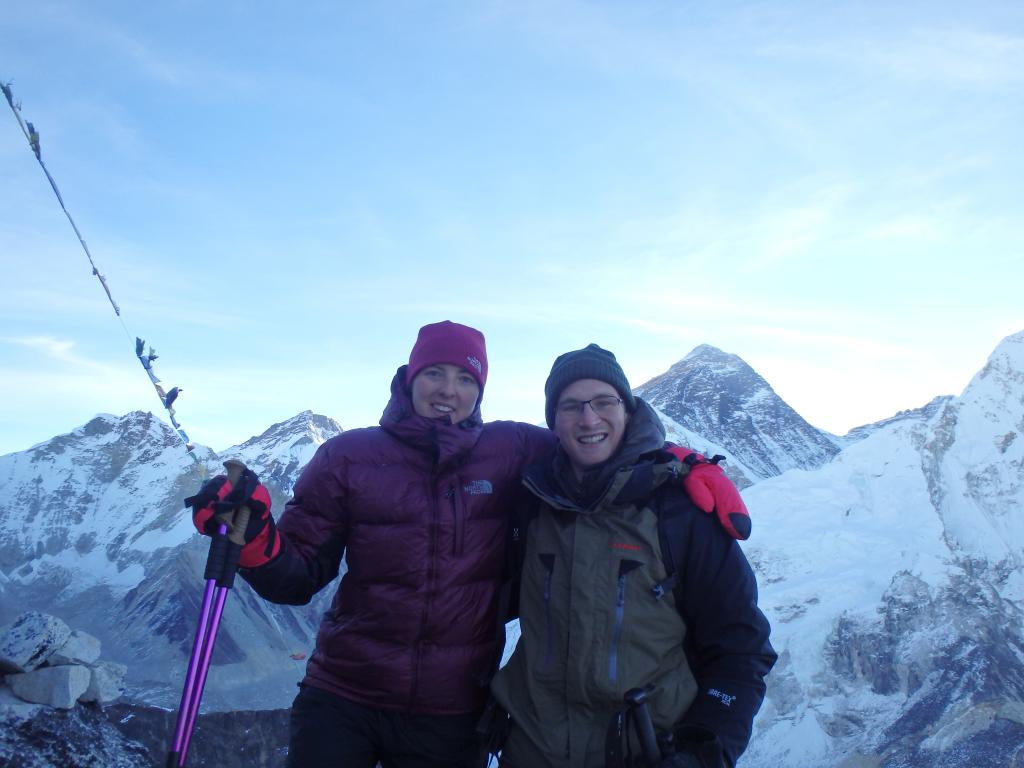 15th of November: This was one of the toughest days on the trip. We knew that we were going all the way down to Namche and that is very long. It took us around 5 hours just to get to Tengboche for lunch and that was only the half way. After lunch the weather turned cloudy and it felt like we were walking forever. We were afraid that it would turn dark before we reached Namche so we walked as fast as we could. Maybe it was good that it was cloudy because we had nothing to take photos of and no reason to stop! Just before dark, around 5.30 pm we finally reached Namche and our very nice hotel. It was the best feeling to sit in the dining room and relax and eat good food after the long hike.




16th of November: When we woke up this morning in Namche we felt in the whole body that we had walked for several days, we were rigid but lucky because we knew that today was going to be an easy walk. Todays stop was Phakding and the trail was mostly downhill. Some of us in the group saw mountain goats and the guide and two others even saw a monkey. The guide said that it is very rare to see that so they were lucky. We checked in at a different lodge than before in Phakding and we had a very good dinner. In villages below Namche we were allowed to eat meat again so that was nice. Our guide told us that in villages higher than Namche its not good to eat meat. During dinner this day we were very lucky because we saw a documentary movie called Everest that was very interesting.

17th of November: Our last hiking day was here and everybody was tired of walking. It was a sunny and very warm day and we reached Lukla by lunchtime. We checked in at the hotel, the best on the trip, and was very happy that we had made the whole trek. We ate lunch and then we had the afternoon to do some shopping and taking it easy.

18th of November: We got up early in the morning to try and get an early flight back to Kathmandu. Unfortunately we found out that there were no flights from Kathmandu in the morning because of bad weather so we had to wait at the hotel for some time. When the weather got better later in the morning we went to the airport and checked in. Then we had to wait for more than an hour before we could get on an airplane. We had a safe flight back to Kathmandu and when we got off the plane we were surprised over how warm it was outside! We took a taxi to Thamel Eco Resort and had some free time until 6.30 pm when we were meeting to walk to the restaurant with the cultural dinner show. The dinner was very nice but we were tired after the early morning and long day.

Now our adventure in Nepal is over and weve had an amazing time together with our group, guide and porters. The service during the trip has been awesome and we have felt very safe and in good hands. The guide seemed very proficient and he had claimed mountains like Mount Everest and Ama Dablam. We stayed at good and simple lodges and had surprisingly good food. We are very pleased over the trip and it is one of the best weve had.

Namaste!